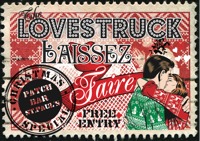 Lovestruck Does Patch Bar XMAS SPECIAL
Wednesday 23 December 2015 5:00pm - 9:52am
Patch Bar, St Paul's
---
Description
You and your single friends/colleagues are cordially invited to the Lovestruck does Patch Bar XMAS SPECIAL: no entry fee, no nametags, no rules. Over 400 Lovestruckers and their friends and a load of red-nosed straws in a Mistletoed-up venue in the heart of London. Can you afford to miss it? Simply ask for a red-nosed straw (entirely optional), have a festive drink or two and let some gorgeous Lovestrucker spot your straw and chat you up. (Or chat up someone with a straw, if you're feeling proactive.). Hidden on a backstreet near St Paul's Cathedral,
Patch Bar
is a seriously stylish cocktail bar, spread over two floors.
What's more, between 5 and 7pm you can enjoy all of the following:
ALL BOTTLES OF WINE (inc sparkling) 50% OFF ALL COCKTAILS & COCKTAIL JUGS 50% OFF ALL SPIRITS (inc bottles) 50% OFF HOUSE BEER BUCKET (5 BOTTLES) £15.00 CRAFT BEER TASTING SELECTION BUCKET (5 BOTTLES) £20.00 Plus, anyone who turns up sporting a
festive look
(ie anything from a hat or tinsel to a reindeer outfit) before 7pm gets a free glass of Prosecco! So why not pop along straight after work in your Santa hat, grab a great spot and enjoy some tapas and beers/wine/cocktails (delete as appropriate) at an unbeatable price. So
tell all your single friends/colleagues
and bring a friend/colleague or five. They don't have to be a Lovestrucker. They don't even have to be single. Hell, they don't even have to be your friend. That's the beauty of this Christmas special, baby. It's all about fun under the mistletoe.
The Lovestruck Laissez-Faires are the hottest ticket in town for singles and the XMAS SPECIAL will be no exception. So please turn up as early as possible to guarantee entry. Going solo? Or just fancy a meeting point? Well, look closely and you may well see a table reserved under the name 'Mr Struck'...
None
---